Amplifier Menu: Please click drop down menu to choose:

MSeries Amplifier: 13dB 500mW | 13dB 250mW | Test Diagram



Compact Perfection.
With its sleek design and
just 4.3 inches in length, this
Mini-Amp provides everything
needed to extend the signal range
of 5.8GHz wireless radio devices.

M58 Features | Tech Specs


Reliable and Flexible.
This 802.11a 500mW M58 amplifier is Teletronics' latest development
under the Bi-Directional RF Amplifier product line. Reliable and flexible
these amplifiers are especially designed for excellent signal linearity
with a low noise figure to achieve the maximum throughput allowed
in the OFDM spectrum.

Compatibility.
Typical radio devices can be Teletronics' TT5800 (Coming Soon),
Proxim 5054 (MP.11a), and any other 802.11a radios. OFDM modulation
can be achieved at 54 Mbps. The line of sight range is from 5 to 32 miles
(depending on the antenna usage.)





No Mounting Needed.
Designed for extending the range
and enlarging coverage of wireless
radio devices at 5.8GHz, this unit provides the transmit power amplification
as well as receive signal gain.

Features:

1. 802.11a (OFDM) compatible
2. Bi-directional
3. Low noise figure
4. Wide range of operating temp.
5. Easy installation & max. flexibility
6. N-type, Male/Female Connectors
7. Indoor and outdoor use
8. No mounting needed

Back to Amplifiers
FCC NOTICE:
The use of all radio equipment is subject to radio regulations in each country. It is the
responsibility of the purchaser/installer/operator to insure that only approved equipment
and systems are deployed. For the ISM band (900MHz, 2.4GHz, 5.7GHz) equipment
manufactured, sold/or used in the USA, FCC Title 47, Part 15 governs the sale, lease,
use, and manufacture of equipment (wireless LAN cards, wireless Access points,
amplifiers, etc.) and prohibits the same unless such equipment is used in the FCC-
certified system configuration with which such equipment is authorized.
For information on Teletronics' FCC certified systems, please visit FCC Detials.


Since 1986, Teletronics has been a pioneer in developing cost-effective
products and solutions for the ever-evolving broadband wireless
industry. Teletronics continues to focus on innovation and is
committed to providing its commercial and military customers with
the best possible equipment and solutions.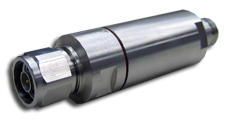 Now Shipping!
802.11a (OFDM)
MSERIES M-58 Amplifier
U.S. Patent 7,430,442
5.8 GHz

MADE IN THE USA